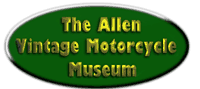 These are vendors used by the museum. They have provided products and services of the highest quality.
slippery_sam@dial.pipex.com Home of the famous "Slippery Sam" Trident production racer which won 5 consecutive Isle of Man TT's. Trevor Gleadall took over from legendary Les Williams and provides "Slippery Sam" replica parts and many other Trident goodies. He's "the man" for Trident parts and advice.

JayStrait at aol.com> Jay Strait is a Triumph expert. He does excellent complete restorations and repair work. I have used him on several projects including the restoration of a 1963 BSA Super Rocket which is in the Allen Museum collection. His work is consistently first class and he is very reliable. Jay also has founded, and runs "Triumph Days" in Sturbridge, Massachusetts.

somer at mindspring.com Somer Hooker is a Vintage motorcycle broker. I have purchased a number of bikes for the collection from him and have been well pleased with his services. He is very knowledgeable in nearly all aspects of vintage motorcycles, American, European and Japanese.

Anderson Motorcycle Stands manufactures a great range of motorcycle lifts, front and rear stands, and workshop benches. I use their stands in the museum and find them to be of the highest quality.




This is a list of sites which complement the bikes and subjects covered by the Allen Museum Collection. If you like our site, we're sure you'll like these.